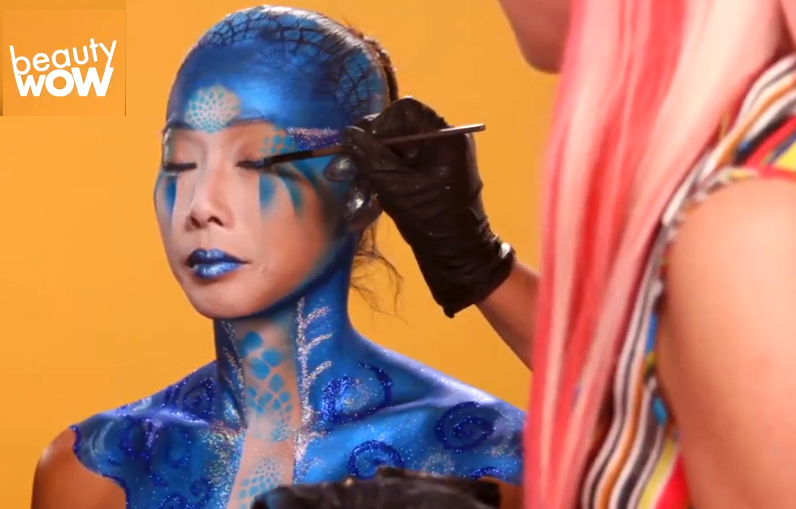 These stunning airbrushed body and face paint looks by Lana Chromium ( Instagram @lana_chromium) are the perfect way to stand out for your next music festival or big rave!
LOOK #1: RHINESTONE GLAM
Festival goers are getting creative and pairing iridescent glitter with rhinestones, and metallics to create otherworldly looks VERY fitting for the weekend's over-the-top events.
Coachella is one of the more well-known music festivals on the scene and, traditionally, everything from makeup to style to music is colorful, extravagant. While everyone is familiar with this particular festival, Coachella is certainly not the only one worth dressing up for. Other festivals on my radar right now include Lucidity, Lightning in the Bottle, Bonnaroo, and SXSW. Burning Man will be exception cause glitter not welcome on the Playa.
I was so obsessed and inspired by so many of the makeup looks this year, so I recreated my own festival-inspired makeup look. This is the perfect time to try a look of your own —here are some simple tips in videos to get you started.

– Lana Chromium
These festival makeup looks are far from the basic unicorn getup
LOOK #2: GALAXY GLAM
Here's a chance to go a little wild! Try out some of these funky fresh looks at your next music festival!
LOOK #3: GLITTER GLAM
Follow Beauty Studio!
Instagram: https://bit.ly/2v3M25J
Facebook: http://bit.ly/2SiBk6v I
---
Subscribe for more trending beauty content on Beauty Studio!
Products used for bodypainting:
---
FOLLOW LANA CHROMIUM ON SOCIAL MEDIA:
BECOME A PATRON FOR MY PROJECTS
---