ABOUT ARTIST

Artist - Bodypainter - Dreamer
Lana Chromium, born and raised in Russia,  studied art in Penza (Architecture & Design University) & in Moscow (Stroganov University).
In 2006 she moved to San Diego California and immersed herself into body painting. First bodyart artwork exhibition in 2009 took place in Museum of Photographic Art / Balboa Park in San Diego. 
From 2013-2015 Lana competed in Living Art America: The North American Bodypainting Championship in Atlanta GA.
---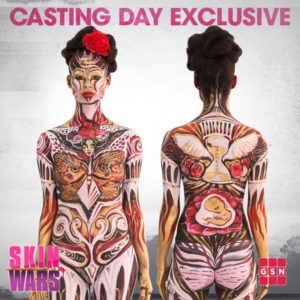 In 2015, Lana became on out of 12 contestants and won fist place in popular TV show Skin Wars (Season 2).
About Show: Skin Wars is a body painting reality competition hosted by Rebecca Romijn that premiered on Game Show Network on August 6, 2014.
Skin Wars Contestants on the series perform challenges containing body painting each episode. At the end of each episode, one contestant is eliminated.
Show produced by Michael Levitt Production & Jill Goularte.
Hosted by RuPaul (RuPaul's Drag Race), Rebecca Romijn (Mistique, X-Men).
Judges  RuPaul, Robin Barcus Slonina & Craig Tracy.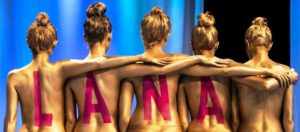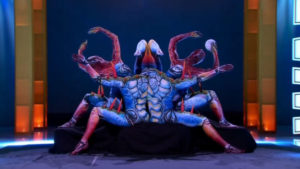 Now show available Worldwide, International broadcast:You can watch this TV show on Netflix.
In Australia, the series premiered on LifeStyle You on May 26, 2015.
In Canada, the series premiered on GameTV since 2015. It also airs on GSN on Cable/Satellite companies that air the channel.
In the United Kingdom, the series premiered on TruTV since 2015.
In Brazil, the show's first season has been broadcast on Multishow since February, 2016. In South Africa it broadcasts on Sony Max
In 2016 Lana Chromium premiered her brush line
Signature SKIN WARS Brush set for bodypainting with Royal & Langnickel.
Release took place at International Make-up Convention IMATS in 2016 in Los Angeles.
Brushset for bodyart available online you can find it here. 
 In 2016 Lana attended World Bodypainting Championship WBF in Austria – her team took 3rd place in Art Installation award at . She produced and released bodyart underwater project "Alice Under the Sea Tea Party".
In 2016 Lana became IMATS educator and did multiple demos and master classes at IMATS Make-up Convention in Los Angeles & New York, sponsored by Royal & Langnickel Brush Company.
In 2017 release her first Coloring Book "My Art Your Art Our Art". Recently working on "Flowers", "Robots", "Plastic" bodyart series.
And expending her Youtube channel.
She based in San Diego, CA, paints in Los Angeles and available for travel.
Recently worked with Disney, 20th Century Fox, Lucent Dossier, Hannah Mermaid, Smosh, Tim Tadder, Cabi, GSN channel, Rare Ltd / Xbox.
Did bodypainting for events: Snapchat, Playboy, San Diego Zoo, Comic Con International in San Diego, WonderCon, Fantasy Fest, Elon Musk, Kaiser. 
If you any questions, please do not hesitate to contact us.