This Glitter Unicorn Bodypainting is Totally Magical
💥EPISODE 2💥
of my new "One Day with Bodypainter" series ✌🎨😊
💥EPISODE 2💥 Unicorn 🦄 body painting on Rochelle | Lana Chromium Studio
Sharing behind the scenes pictures from Unicorn 🦄 body painting on Rochelle Berwick (@rochelleberwick IG)
With help of Sarah Appleman ( @calisillygirl21 IG)
The look was high up on the charts, just ahead of mermaid makeup, for last year's most popular Halloween costumes.
And according to this year's searches, unicorn makeup is still just as popular for 2020. And you know what: Why the hell not? If there's ever a day to go crazy with holographic highlighter, it's Halloween. So, on that note, we put together this compilation of Instagram's best unicorn makeup ideas for Halloween. Go get your glitter on.
In the mood for a colorful wig?
Match your makeup to your hair for an even more festive look.
Body Painted Unicorn

If you like going all out on your Halloween costumes, this one's for you. Go hard on watercolor hues and glitter.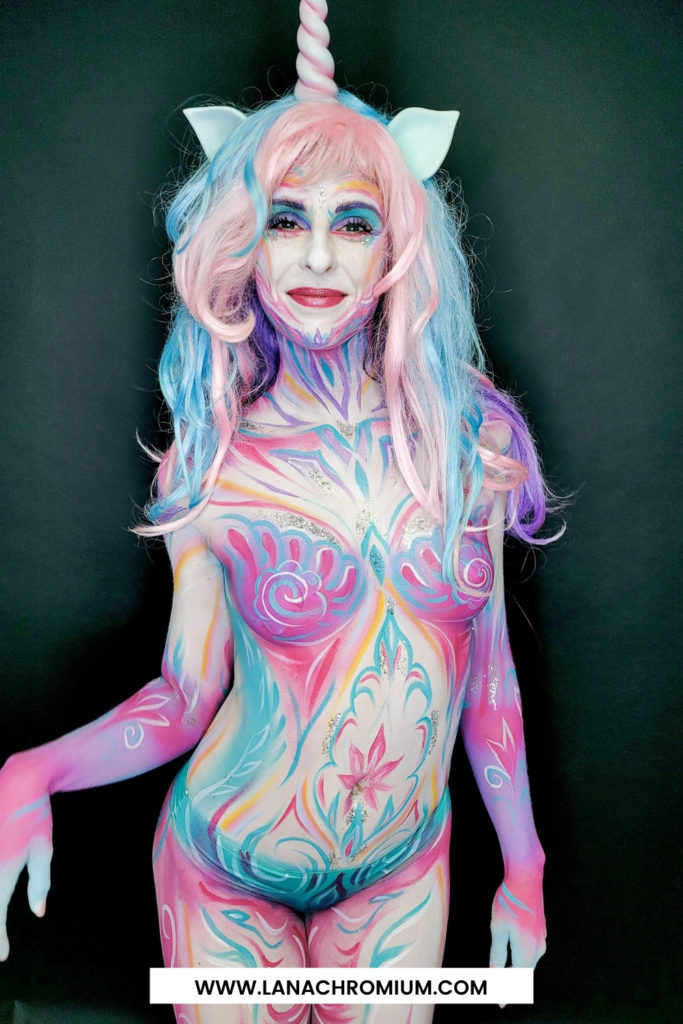 Video unicorn makeup body painting for Fantasy Fest festival in Key West
Rainbow Unicorn

With an eyeshadow & glitter job like this, who's to say magic isn't real.
Pastel Unicorn

Balance out pastel hair with super bold shadow
Unicorn makeup is one of the most popular ideas for festive looks amongst girls
Why are people so obsessed with unicorns, you ask? Well, they're precious, rare, mythical creatures with a luscious white mane and an unbelievable horn in the middle of their mug. Simply put, unicorns are stunning. And in a world where social media conspires to make us all look the same, every iteration of a unicorn costume can be brilliantly different, and none of them are wrong. That's because no one has actually ever seen a unicorn.
Completing the unicorn makeup list:
Define and highlight your eyebrows. Use an eyeliner or brow pencil in a color that complements your unicorn makeup (such as pink, purple, or blue)
Apply glitter
Put some shimmery blush on your cheeks
Add some gloss to your lips
Add accessories: horn, ears, tail, earrings and more.
---
Missed 💥EPISODE 1💥?
Camouflage body painting for Crocs + Pleasure + Mossy Oak collab
Watch it here:
---