EVERYBODY SAY LOVE
On the weekend of May 11-13th in Los Angeles, visitors and drag queens from all over the world coming to LA Convention Center for a one of a kind celebration RuPaul's DragCon.
3 years ago I bodypainted at Skin Wars booth with GSN and after 2 years came to visit DragCon again. Since 2016 DragCon grew so much and now was taking all South Hall of LA Convention Center.
Robin Slonina
(our judge & producer from Skin Wars) and
Kyle Vest
(from my season of Skin Wars) joined and we had amazing time running Skin Wars alley.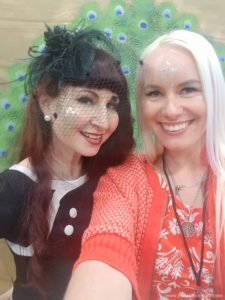 Also this time in addition to Live body painting & had my artist table full of prints, stickers, notebooks and also my "Dream Big" collectible pins release.
 Skin Wars booths alley.
And RuPaul herself to make Skin Wars re-union complete! We had a chance visit RuPaul in
his VIP booth and chat a little about how things going after Skin Wars show 🙂 It was a pleasure to see him and laugh again at his jokes. He have amazing sense of humor!
All 3 days we did live bodypainting in the booth. So day 2nd : Peacock inspired bodyart on dancer Ben Bigler.
On Sunday I did creative make-up on Marlena. Using Mehron bodypaint & Royal and Langnickel brushes.
 The rows and rows of product booths will set you up with wigs, shows, clothing, makeup, and whatever else your heart desires. There are hundreds of famous queens for you to meet — RuPaul's Drag Race winners (Sasha Velour, Violet Chachki, and Bianca Del Rio, Aquaria). Weekend explosion of different styles and costumes!
 So I made some new friends.
See full image gallery here :