Ghost Rider bodypaint cosplay costume for Isabelle Turell ( Her Instagram @fitrockstar).
This time she goes to Arnold Classic Convention ( Instagram @arnoldsports )
                                                                           🔥💀☠🔥
Airbrush body painting by San Diego based bodypainter artist LanaChromium.
This time this time this glam look got even better with added flames & bones on Isabelle's arms
                                                                     🔥💪🔥💪🔥💪
This cosplay bodyart was originally created for Isabelle Turell attending International Comic-Con convention in San Diego California.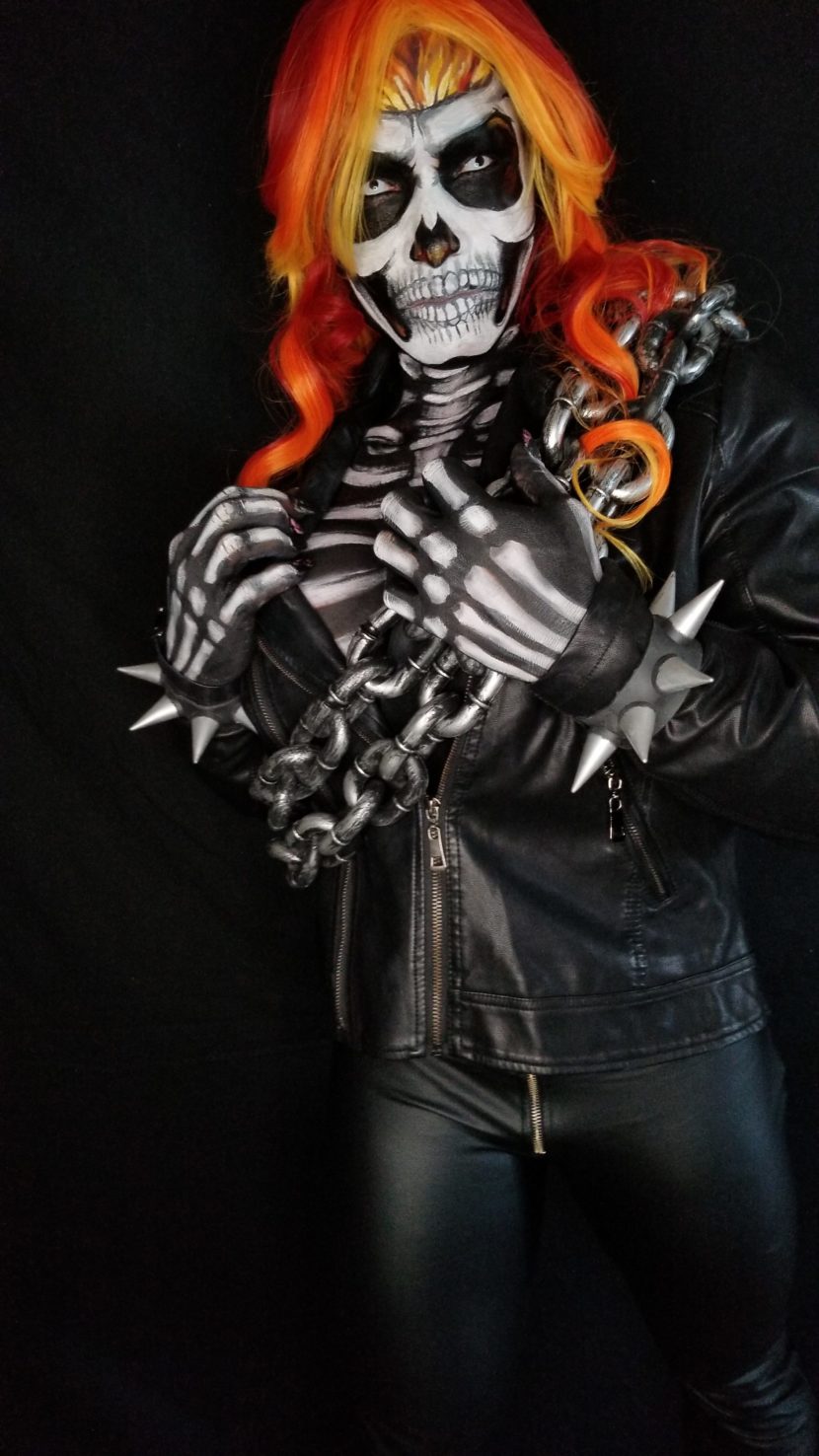 So… check out how added flames made this bodypainting even hotter
About Arnold Classic
COLUMBUS, Ohio (August 20, 2018) – The 2019 Arnold Sports Festival and the world-renowned Arnold Classic bodybuilding championships, already the world's largest multi-sport festival, will grow even larger in 2019 when the four-day health and fitness celebration presents a record 80 sports and events February 28-March 3, 2019 in Columbus, Ohio.
The Arnold Sports Festival will attract an estimated 200,000 sports and fitness fans to watch more than 22,000 athletes compete in 80 sports and events, including 16 Olympic events, at the Greater Columbus Convention Center in downtown Columbus, the Ohio Expo Center and various other Central Ohio venues.
The Arnold Classic and related IFBB Pro League events and the Arnold Amateur NPC Bodybuilding, Fitness, Figure, Bikini & Physique Championships will be held in Battelle Grand and on the Arnold Fitness EXPO Stage at the Greater Columbus Convention Center.
An expanded Arnold SportsWorld Kids & Teens EXPO with Archery, Baton Twirling, Cheerleading, Futsal, Gymnastics, Martial Arts, Pickleball, Table Tennis and XPC Powerlifting/POWER X.
The Arnold Fitness EXPO, March 1-3, 2019 at the Greater Columbus Convention Center, features more than 1,000 booths of the latest in sports equipment, apparel and nutrition and four stages that host competitions and entertainment.
New in 2019: Foosball, Futsal and the Viking Dash Trail Runs.
The 16 Olympic sports featured at the Arnold Sports Festival include archery, boxing, fencing, gymnastics, handball, judo, karate, rowing, a 5K run, soccer, swimming, table tennis, taekwondo, tennis, triathlon and weightlifting.
2019 Arnold Sports Festival
Dates: February 28-March 3, 2019
Locations: Most events are held at the Greater Columbus Convention Center (400 N. High St.) and Ohio Expo Center (717 E. 17th Ave.).
Read more about this amazing expo Arnold Classic Convention
---
SIGN UP for email updates:
---
BLOG ARCHIVES: